Louis Vuitton's coveted assemblage of luxurious bags has to be the first thing that comes to your mind during shopping. That is because they have become a symbol of luxury, an icon of status, and a way to showcase your achievement, success, and opulence.
With hundreds of influencers and celebrities like Emma Stone and Katie Holmes making glamorous appearances from time to time never let the brand's hype diminish. Following their footsteps, people turn to the used Louis Vuitton bags' market, only to find out the sheer number of options. Out of the brand's huge archive, we are going to throw some light on LV speedy handbags that reigns the industry.
Louis Vuitton Speedy
Launched in the 60s, Speedy was the first handbag ever crafted for everyday use by the legendary brand LV. The primary inspiration behind the craftsmanship was introducing style into women's day to day activities. Since it was the first of its kind, it quickly won the hearts of millions.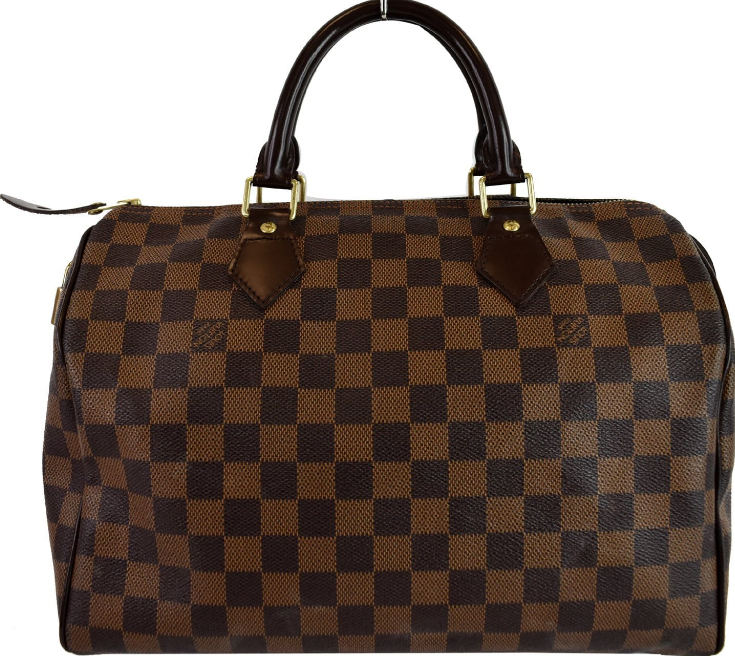 Even after several decades, it is still considered one of the most classic handbags for women. It was the favorite of Audrey Hepburn, a highly regarded fashion legend, who also asked for a custom size, which ended up being the most preferred.
Different sizes in LV Speedy
You will absolutely appreciate the fact that it comes in a myriad of size options, allowing you to choose the most comfortable design. Firstly, it was introduced in only three sizes — 30, 35, and 40. Later, after the request of Audrey Hepburn, a less bulky option — 25 — was custom-built. Today, the series has a more portable member as well in the form of Speedy 20. So, let's dig a little deeper into each size and explore what it has to offer.
Louis Vuitton Speedy 20 (7.9" L x 5.9" W x 4.7" H)
Before its emergence, Speedy 25 was titled as the smallest bag, but recently that status has been snatched away. The brand understood the immense value of portability in today's world and decided to shrink the bag, creating Speedy 20 which rivals the compactness of one of the most iconic LV products.
Size is one of the price regulators for used Louis Vuitton bags. Based on that, Speed 20 is the cheapest of all five sizes. You can find this Louis Vuitton speedy for sale in a couple of hundred bucks.
Louis Vuitton Speedy 25 (9.84" L x 7.5" W x 6" H)
If you have a fragile figure and are looking for petite used Louis Vuitton bags that match your body dimensions, then Louis Vuitton Speedy 25 used bags are perfect for you.
It won't weigh you down and can easily be carried around. Although the small size isn't always the favorite one in the LV's collection, Speedy 25 being an exception is the most preferred option. However, you may not be able to fit everything, it is roomy enough to accommodate a compact cosmetic case, medium wallet, a smartphone, hairbrush, etc.
Louis Vuitton Speedy 30 Damier (11.8" L x 8.3" W x 6.7" H)
People who think Speedy 25 to be too small will surely fall head over heels in love with this size. It is neither too compact nor too big, and it might be able to store a few more things than the smallest product.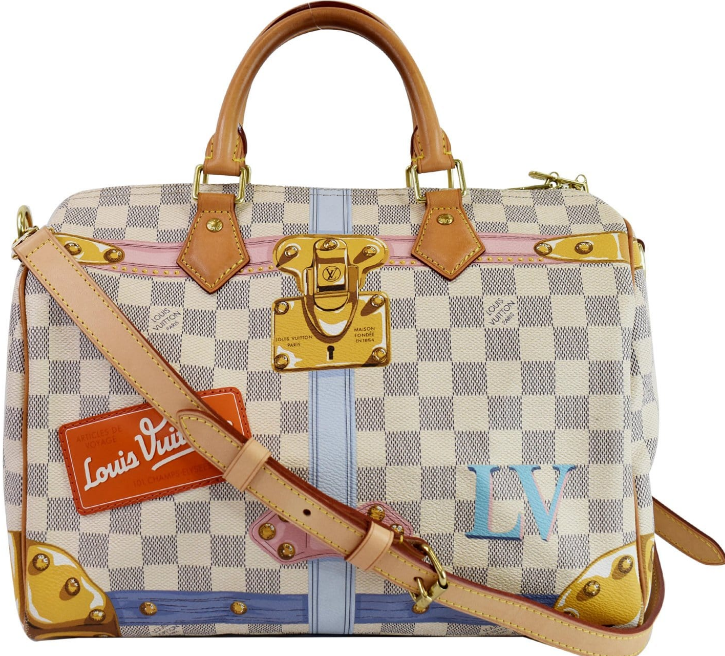 Louis Vuitton speedy 35 (13.8" L x 9" W x 7" H)
For taller people, Speedy 35 can be an ideal option. Everything from big makeup kits, medium to big-sized wallets, smartphones, hairbrushes, and various other small devices can easily go with this size. The Louis Vuitton speedy 30 vs 35 size comparison shows why both of these designs are considered all-purpose sizes.
Louis Vuitton speedy 40 (15.8" L x 9.8" W x 7.5" H)
It is the bulkiest Speedy ever created, giving enough room for storing one day worth of clothes. It means it could be your go-to option for short one-day trips — not to mention, a medium-sized laptop can also hassle-freely be placed inside a Speedy 40. Further, it is the most expensive model of the series.
Speedy Material Availability
Over the course of several ages, Speedy is designed with diverse material — some rather rare, while others are readily seen in the market. Of course, the signature monogram leather is still the most loved out of every version ever surfaced. While the following are some popular choices: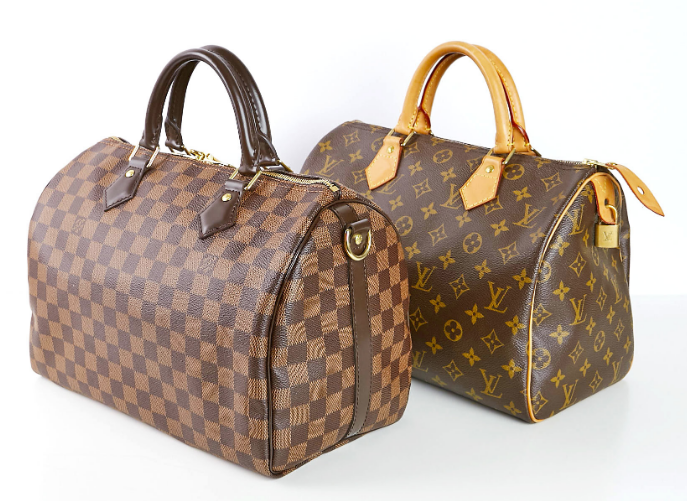 Monogram coated canvas (light vachetta leather and LV brown monogram)
Louis Vuitton speedy 30 Damier Azur (white and blue check)
Damier Ebene (dark brown leather and check)
Monogram Empreinte embossed leather
Mini Lin/Idylle Canvas
Epi leather
Denim
Rare Special Limited Editions – Which Speedy you should get?
In the used Louis Vuitton bags market, you will come across a myriad of limited-edition versions, each with a unique appearance, and eye-catching color and leather. Compared to any other used Louis Vuitton bags, Speedy has the longest history of 90 years which roots back to the time when the brand was relatively new. No wonder it comes in so many different styles, colors, and canvases. While it is hard to lay your hands on one of them, they are worth all your investment. So, here we have rounded up a few best-limited editions you can find out there.
1. Speedy Giant Monogram – 2019
Starting from the latest model, we are happy to present this exquisite giant monogram bag with unique features. As evident from the name, the brand logo and initials have been magnified, taking the canvas's looks to a whole different level. Plus, LV offers a new twist with a new zip coin purse that goes flawlessly with the Speedy Giant Monogram model. On the whole, it is sophisticated, simple, and sleek — ideal for day-to-day usage.
2. Louis Vuitton Speedy Catogram – 2019
Tired of your boring handbags? If yes, then you should give this one a try. It is embedded with adorable cat animations that look incredibly cute. Each sticker is different from the one before, adding an artistic and playful vibe to your style. They are tear-proof and scuff prof allowing them to be as durable as the canvas itself. if you are a cat lover, then there is not a better option than LV's Cartograms.
3. Summer Trunk Collection – 2018
Inspired by vintage trunks, this version carries a bold summer look perfect for people that love attracting some eyes. The straps no longer carry the blending color, but a standing out pink appearance that surprisingly complements the overall look. On the front, we can witness an animated lock and metal clamps, which gives out a vintage vibe.
4. Louis Vuitton Speedy White or Silver – 2017
It is entirely different compared to what we have witnessed so far. There isn't a visual feature that resembles the signature outlook. The structure is bright silver accompanied by black and silver lines. This limited-edition bag quickly became popular right after its launch because it broke the conventions. Even in the used Louis Vuitton bags market, it is still a higher-priced version. Well, it isn't a surprise, considering it's out of ordinary appearance.
5. Amazon Nm – 2016
Usually, Speedy series aren't built for shoulders, but Amazon Nm took comfort and ease to another level — the bag comes with a long strap, allowing the wielder to carry on the shoulders rather than on the arms. It wouldn't be an overstatement to say that this product is a fine blend of forward-thinking design and traditional craftsmanship. Still, the balance between the new and vintage style isn't lost. With zero doubt, Amazon Nm deserves to be in your arsenal of handbags.
6. Speedy Monogram Jungle – 2016
Embark on a tropical journey with this outstandingly good-looking LV masterpiece. Overall, it gives out a calming and cool look — all thanks to the emblematic oasis and palm trees, and Californian landscape print. The colors evoke your inner joyfulness and sense of adventure. The dots, on the other hand, creates an illusionary contrast of wild animals passing by, which is an embodiment of the brand's artistic approach.
If you compared used Louis Vuitton bags before and after 2011, you would notice some prominent design changes. For instance, some zipper leather tabs were replaced with locked zippers, ensuring security. Also, due to the changes in stitching which are now present all around the rivet, the leather is puffier.
7. Speedy Ramage – 2015
Why be dull when you can be fun? Crafted from iconic monogram canvas, this model comes with a twist. It features the stunning Ramage's print — irregular orange figures followed by red and pink spheres. It may not be everyone's cup of tea, but one thing is for sure; these used Louis Vuitton bags surely attract the crowd. Plus, it works best with bold summer outfits.
8. Speedy Paillettes – 2013
Enough with the daring appearance! Let's talk about something that is relatively under the radar. Even though it features three colors, the looks aren't as flashy as we have witnessed in other LV bags in this listicle. The product was inspired by the 2013 LV's spring-summer fashion show and carried that spirit forward. It is one of the unique used Louis Vuitton bags that is both glamorous and sophisticated at the same time. Later, various future limited edition bags were inspired by this marvelous creation.