This song is every little girl's jam growing up. To have a magic bag like Dora's is our ultimate fantasy, and let's be honest, the fantasy never leaves us even after growing up. We still want a magic bag that can carry anything and everything. But once you're older, you realize there's no such thing as magic, or is it not? Because we believe, all these designer bags are nothing but a creation of fairy godmother's magic wand.
In the business world, bags are now considered a status symbol. Nicer the bag, the nicer the image. As they say, ''a women's handbag speaks volumes about her personality." It might not be a very healthy assessment to be judged on a materialistic-thing rather than your working skills but in this money-grabbing world, it sure helps in making an impactful statement.
Being a working woman, it's already hard to maintain that ideal professional yet stylish look every day. From choosing a smart business suit and making that perfect presentation, you're already juggling multiple tasks and if your job demands constant commuting then it is often nerve-wracking and can be a lot more stressful. Amidst all this, how to carry your work essentials should not be burdening you as a hurdle on the way to your success.
For all this, you need a perfect bag that carries your burden with you, literally. It is a bag that has many zips and folders, enough to hold the world inside it and beyond, and sometimes you as well. A bag that's spacious enough to carry your laptop, mobile phone, and charger, your water bottle that helps you stay hydrated during a hectic workday, and most importantly it should always have a place for your daily makeup essentials to keep you fresh all day long.
To bring you a little comfort from your busy life, we've handpicked some of the best designer bags or best tote bags for work that are our absolute favorite. Trust us; you don't want to miss out on them! Grab your credit cards because there's no way you won't want these bags in your closet after reading this.
1. Balenciaga the Work Editor's Pink Leather Satchel Tote Bag – Last Call
When nothing goes right… go tote. Truer words have never been spoken. The best tote bags for work are those that are generously spacious and comfortable to carry as well. Balenciaga has manufactured just that. Catering to all you need with its massive size and multiple zips, these extra-large tote bags for work comes very handy when you want everything at the disposal of your hands, ready to get up and conquer the world. It's a great addition to women's work tote collection. On top of all, it's pink, leaving you with no choice but to buy it.
2. Louis Vuitton Onthego
This Louis Vuitton Onthego Gm Reverse Monogram Giant Canvas Shoulder Bag' is our ultimate go-to. This article from 2019 has the perfect shape and style that'll go perfectly with your attire. With its width of 16.14 inches and height of 13.39 inches along with a great depth of 7.48 inches, this bag has the exact capacity to carry out all your essentials without losing its shape or looking oddly heavy. Its brown color signifies that it can be paired with all your attires and the brand logo only adds to its worth. When we say it's a perfect match with a sophisticated personality, we mean it.
3. Louis Vuitton Rivoli
This bag comes from the LV family's 2020 collection. 'Louis Vuitton Rivoli Mm Monogram Canvas 2way Shoulder Bag', as mentioned in the name, this bag can be worn 2 ways. Whether you carry it in hand with short handles or wear it on the shoulder with its long strap, actually, make it 3 because it can be worn cross-body as well, it is entitled to give you that perfect professional look adding more to your already stylish persona. Monogram coated canvas and natural cowhide-leather trim ensure that it stays in top-notch condition after multiple uses.  With its adequate space and a stylish cut, LV promises you can't go wrong with it and we agree.
4. Chanel Reissue Cerf Executive East West Tote Bag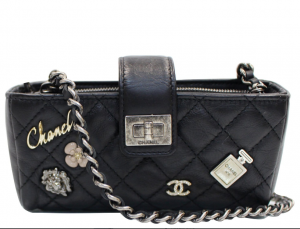 The best tote bags for work are those that aren't specified for only a single profession. And what's better than this epic Chanel Reissue Cerf Executive East-West tote, it is specially designed to make you blend in all sorts of workplaces. Unlike the name, it isn't specified only for the executive women but is considered the best work tote for teachers as well as the other respectable professions. Easy to carry, these leather totes prove the best bags for commuting to work.
5. Givenchy Antigona Small Leather Shoulder Bag Black
Once again, Givenchy comes to the rescue if you're not a fan of extra-large tote bags for work. Women's professional bags don't always have to be excessively big and that's why Givenchy has designed this perfect partner for you to carry around all your necessities, making your commute trouble-free. Its comfortable long strap ensures your relief as it holds the weight without the drooping of your shoulder.
6. Fendi Are You Serious Backpack Bag With Face Charm
Does your Job require a lot of outdoor work? Then this backpack by Fendi should be your new best friend. As someone who works mostly outside as a photographer, architect, or artist, it's a given that you'll have more essential supplies than those women who have an indoor desk job. And in such cases, women's work totes might not be your best option. Backpacks are designed to carry all your necessities without holding you back and worrying about your hand getting tired in the process of carrying them all the time. Whether it's your camera, laptop, or your art supplies and stationery, Fendi's backpack always stays ready to get up and shine like the start that you are.
7. Prada Saffiano Laptop Bag
Like the boss lady that you are, you're always in the struggle to make the most of your day. From keeping an eye on your employees to going out for lunch meetings, your laptop is the most important thing that you will need. Prada has specially introduced the 'Saffiano Laptop Bag' proving to be the best tote bags for work to carry your laptop around with elegance. Prada's work bags for women leave a great impression on the people you work with. It surely adds more to your appeal.
8. Christian Dior Lady Dior Large Python Shoulder Bag
If you're fond of expensive bags then Christian Dior's bags should be your ideal pick. Made with python skin, this bag screams extravagance from afar. Other than your love for animal skin, it also effectively serves the purpose of being the best tote bag for work. Made in Italy, this bag is highly commodious, accommodating all your stuff, and adding just the right amount of hotness to your professional life.
9. Burberry The Small Rucksack Nylon Backpack
If you think Burberry is only known for its checkered design then you could not have been more wrong. It must be known for it but in reality, Burberry provides a lot wider range of designs under its fancy name. And this Small Rucksack Nylon Backpack is exactly proof of that. This classic and the best work bags for women should be your ultimate go-to if you're an athlete. Running a marathon or hiking in the jungles of the Amazon, make sure you have this backpack to carry all your necessities to make you the winner.
10. Yves Saint Laurent Kate Medium Leather Crossbody Bag
Work does not always involve a lot of supplies. Sometimes all you need is that professional look that leaves people craving to be in business with you. Like the people in the media industry. Whether you are an actress, model, or social media influencer, you speak volumes about yourself. Your appearance is the only portfolio that will get the job done. Work bags for women in such a case are needed only to give the impression that you're the 'IT girl' for the job. Yves Saint Laurent Kate Medium Leather Crossbody Bag does almost half the work for you, adding the right amount of slaying and professionalism to you.
These are a very few hands picks we've chosen that'll help you in your professional life without worrying. Choosing the best tote bags for work can be tricky as they can add complications to your commute. These bags will surely provide you a great professional look that will go flawlessly with your personality, it'll make people believe that you are not only hard-working but also you're a woman of style with an exceptional taste for designer bags. Get your hands on the best designer bags from SellYourBags.com before they run out of stock.