Do you want to know how to clean your leather handbag to keep them under the care and new so they can last longer? Well, worry no more because here we are with a guide on how to clean leather handbags with ease and precision.
1. Consult the Professionals
The first thing that you must do if your designer handbag gets seriously stained is to get it cleaned by a professional cleaner. Seeking professional help or guidance will help you keep fixing the problem faster and will prevent the back from getting ruined any further. As professional cleaners use high-quality products such as the leather handbag cleaner and conditioner to remove the stains and keep the handbag looking good as new.
The products are trusted worldwide and are used by many professional cleaners around the world, which makes professional help worth the money. They will not only remove the stain and save your bag, but they will also help preserve the freshness and durability of the bag. So many brands and websites offer such services to clean your luxury handbags at extremely affordable prices. After being treated by professional cleaners, the bag will shine brighter and any traces of the stain would disappear. Other than that, you can always seek professional help online or on call to ask for guidance so they can help you find out a way to clean the stain on your own or at least recognize what the stain is and how it should be treated.
2. Use a Bag Organizer
It is highly recommended to use a bag organizer or a plastic handbag interior cover to keep the insides of the bag clean from any stains, marks, or dirt. As the organizers and covers are made of plastic, they can easily be cleaned or washed without damaging the interior fabric of the purse. Keep your makeup and other essentials organized and straight so that they don't spill or leave a mark on the fabric. So even if you happen to drop something in your bag, the plastic material will block the spillage and will keep the fabric on the inside clear and spotless.
You can also get handbag organizers that have pockets specifically made to store products that have a chance of spilling over but as the compartments have zips and locks, it makes it easier for the organizer to hold the products in place. Keep your pens and pencils in a small case or the bag organizer as they can also leave some bold marks on the inside cover and take a lot of hard work to take off. Even if you do end up getting stains on the interior fabric, then try searching for 'how to remove stains from the bag' or 'how to clean inside of a designer handbag' only if you are sure that you will be able to do it with the right products and supplies.
3. Use a Cosmetic Pouch
Most designers and experts have considered it important to keep a cosmetic pouch in your bag that holds all of the items that can spill and ruin the interior fabric of your handbag.  Cosmetic products such as lipsticks, concealers, and moisturizers tend to leak through the caps a lot and the spillage often leaves a nasty permanent mark. Also, it is impossible to clean off a lipstick or lip tint stain from the interior of the back, which results in permanent, faded marks inside the bag.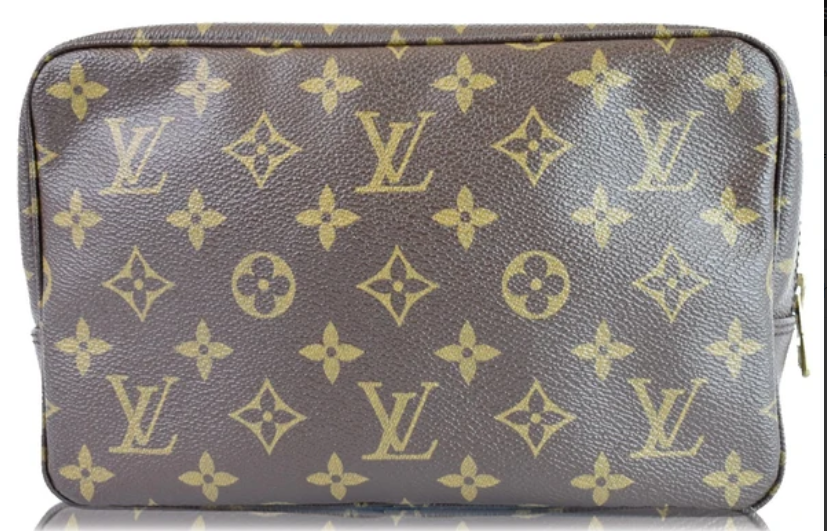 So it is better to carry lipsticks or lip stains with tightly screwed caps or just store them in a proper cosmetic bag that does not let the liquid or the color stain the outsides. The cosmetic bag might get dirty from the inside but it will prevent any damage on the interior cover of your luxury handbag. A cosmetic bag is easy to replace but the expensive designer bag is not. So it is better to put your money into something that doesn't affect your wallet drastically, instead of a designer handbag that is very hard to get your hands on.
4. Use High-Quality Products
If you can not afford to bring your stained or marked handbags to a professional cleaner, then go for the DIY options. You must be thinking, how to clean a leather handbag on your own? Search 'what is a good leather cleaner' so you can get the results for high-quality cleaning products like leather bag cleaners, or handbag leather cleaners, or just the general handbag cleaners according to the type of fabric that is used to make your luxury handbag.
Get them delivered to your doorstep and get to the cleaning part with caution and precision. But before you do anything, ask any professional or testimonials online that 'can you wash a leather purse?' if yes, then go ahead and clean the bag with the utmost care and gentleness with the help of the products like the leather handbag cleaner or conditioner. The instruction available online on how to clean a leather handbag will guide you through the process with ease.
5. Store Them Well
Other than the cleaning process, it is important to store your luxury handbags well. If you have a walk-in closet, then get a few shelves installed so you can set the handbags on them with care so they maintain the actual shape of the bag. If not, you can always get a hanging shelf for you to keep your handbags in. Remind yourself to cover them in clear plastic bags if you don't have shelves or proper storage areas so that they can stay safe from any accidental damage or dirt and dust.
To keep your luxury bags clean and dust-free, get your hands on the best leather handbag care kit or for the required material. This will help you use the proper tool and supplies while keeping the luxury handbags clean. You can always search up tutorials on Youtube on how to clean leather handbags and follow the instructions precisely.
6. Regular Cleaning
If you have a designer luxury handbag that you use daily, then make sure to clean it now and then. If you have a bag organizer inside, take it out, empty it so you can flip it over to gently shake it and clean out all of the extra dust or any other dirt that has been in there for so long. You can also use a soft brush to lightly dust off the dirt from the inside and outside of the bag.
You can search up the internet for instructions on how to clean leather handbags or any other handbag at home daily. Also, don't touch your handbags if you have applied any type of body lotion, body oil, or masks. If you do accidentally touch it, identify what the stain is, and try to search for ways to clean up the stain. To maintain the freshness and keep the exterior of the handbag shining and clean at all times, use an alcohol-free baby wipe to gently clean off the layer of dirt from the surface. Make sure the wipes are alcohol-free because the alcohol present in the wipes can damage the fabric and fade the colors of the handbag.
7. Know the Stains
The most important thing to pay attention to is to know where the stain came from and what it is so you can find out ways to clean it accordingly. As different substances and their stains require different types of products, supplies, and equipment. Here are some of the stain or damage identifications and how to get rid of them.
Pen Marks
Pen or ink marks can be quite tricky when it comes to stain removal. If the ink is still wet, try rubbing a plain white eraser on the stain but make sure to put no extra pressure over it. And if it does not work, directly take it to a professional so you can save it from further damage.
Food Stain
If it is a food stain, then crush some white chalk and let the powder sit on the stain for over a night or more, then finally wipe it off with a clean cloth, and it's good as new.
Water Spots
Water sports can be hard to get rid of so if you want to save your bag from further damage, just take it to a professional and let them do the rest.
Odors
One of the most effective ways to remove any odor from your bag is to put dryer sheets, baking soda packs, or herbal sachets inside the bag and zip up the top for a few days. We hope that these tips and tricks will help you understand how to clean leather handbags or any other luxury handbag that you own. Keep your expensive handbags looking new and fresh and style them with your favorite outfits whenever you want. Get your hands on the best luxury handbags from SellYourBags.com. It is a website where you can both buy and sell high-quality luxury handbags online at extremely reasonable prices.